From: "Frances Mattlin" <fmattlin@stmarkspbg.org>
To: captaindom@jupitercoins.com, yvonne@yvonneaddario.com
Sent: Tuesday, March 13, 2012 1:51:31 PM
Subject: St. Marks program

Dear Captain Dom and Yvonne,

Your presentation was a "treasure" to us. You held our students rapt
attention with your stories of dives and artifacts you found. I
especially noticed how well you tailored your historical facts to make
them appropriate for the different classes. Your answers to their many
questions were specific and on target!

Yvonne, your writing is perfect for middle grade readers as they find
out about modern day treasure hunting! Nonfiction books are often
overlooked by our readers, but your book is sure to be a hit! The
photographs add to the authenticity of your text and keep readers
wanting to read more.

I have had a few students inquire about ordering a book of their own
since they have been motivated by Captain Dom's presentation. So I'm
still taking orders, and will contact you after we return from spring
break regarding how many more books we would like to have.

Thanks again for coming to our school. We're hoping you find even more
treasure this spring and summer!

Frances Mattlin
Media Specialist
St. Marks Episcopal School
3395 Burns Road
Palm Beach Gardens, FL 33410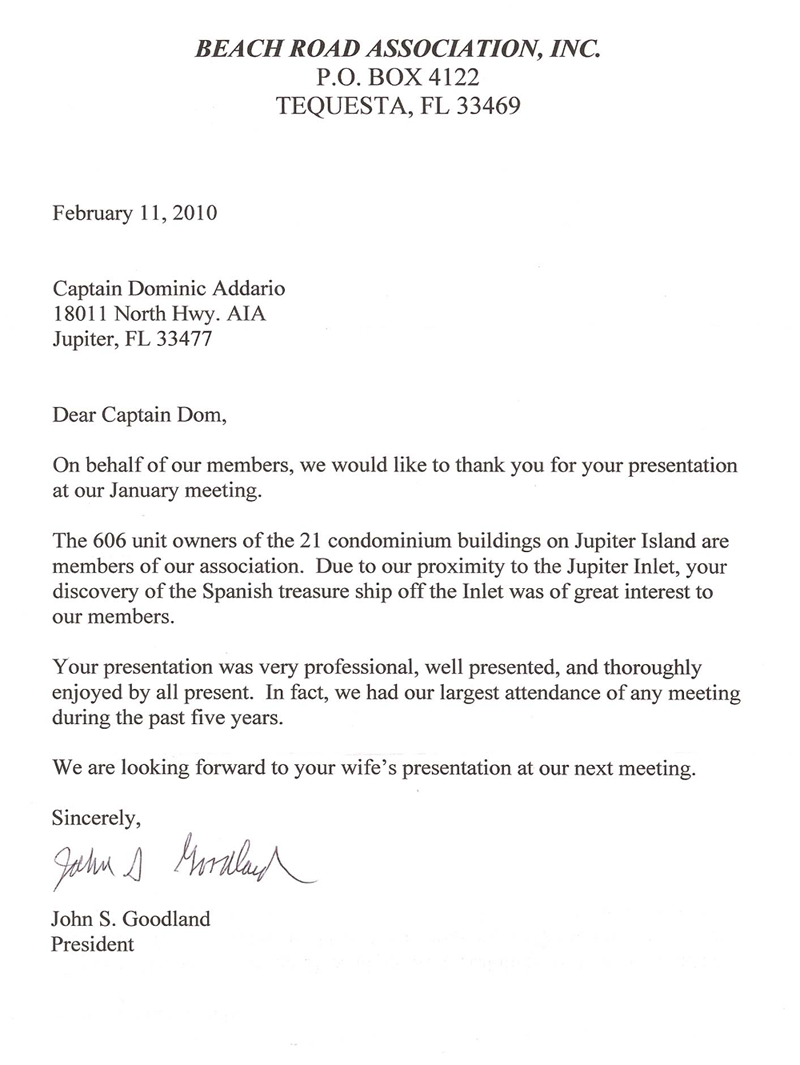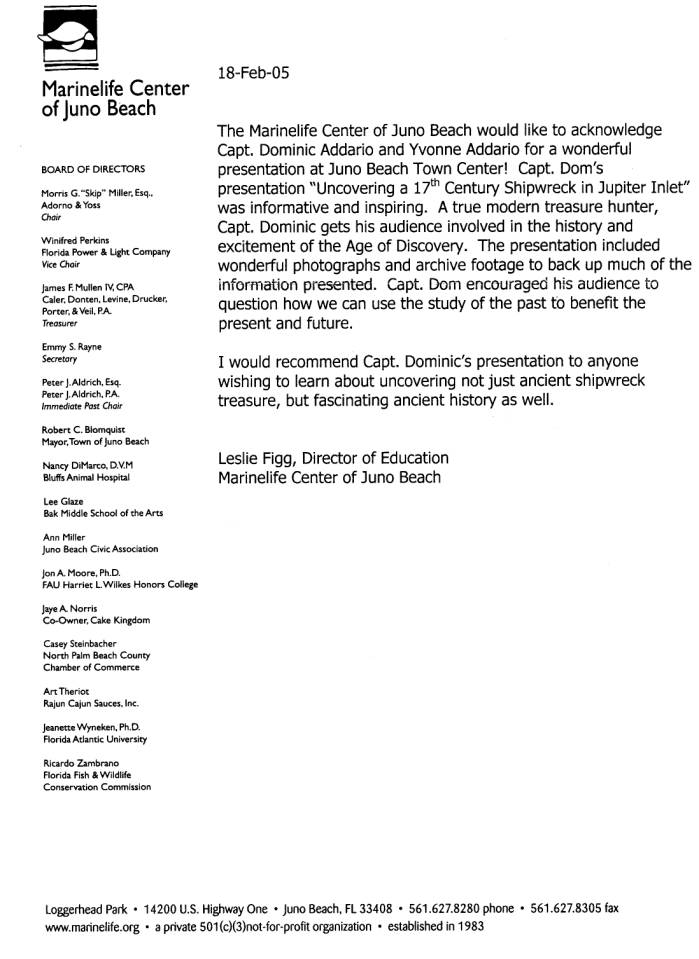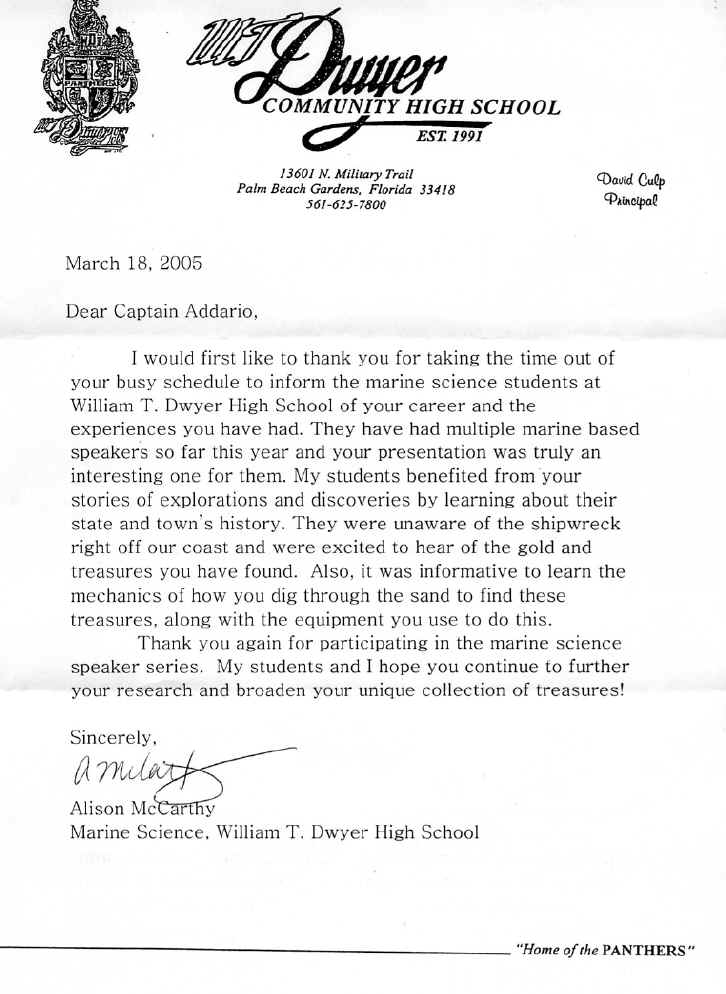 William T. Dwyer High School, Jupiter, FL
----- Original Message -----
From: Mike
To: Captain Dominic Addario
Sent: Friday, February 11, 2005 11:50 PM
Subject: Thanx
Dear Capt. Addario,
I appreciate the time you and your wife took to come visit my class.
My classmates and teacher, including myself, were really amazed at your presentation.
We haven't had a speaker who actually kept all of us interested during the presentation till you two came.
I wish you and your wife good luck with your company and hope to see your killer boat out on the water sometime.
Thank you once again.

Sincerely,
Mike Boyle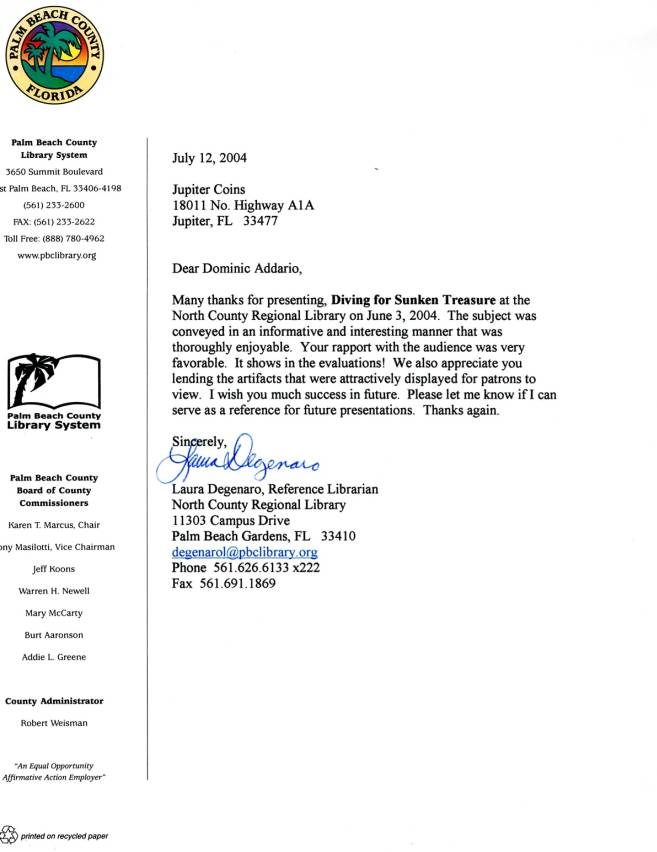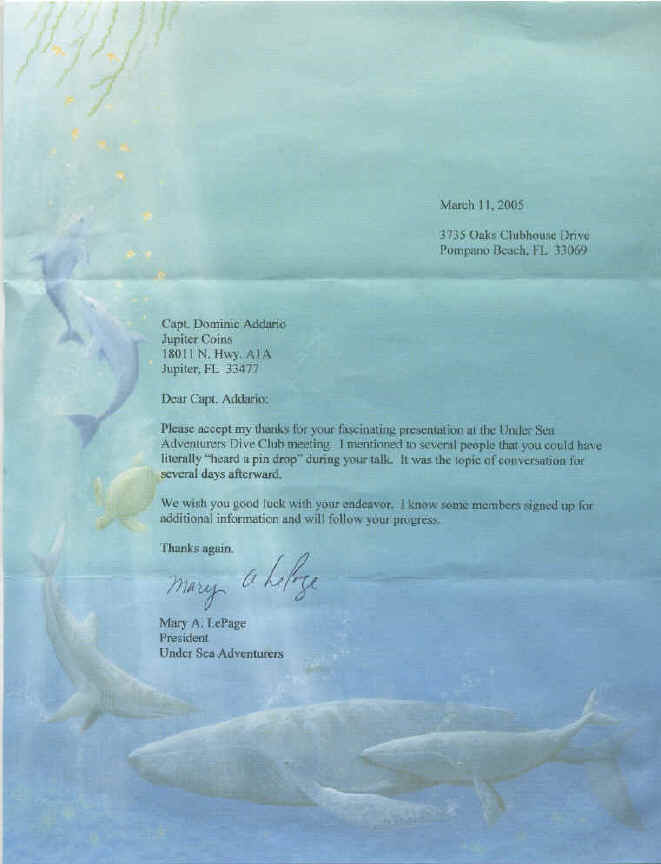 North Palm Beach Library
303 Anchorage Drive
North Palm Beach, FL 33408
Phone: (561) 841-3383 Fax : (561) 848-2874
February 9, 2005
To whom it may concern,
The North Palm Beach Public Library hosted a program by Captain Dominic Addario on February 8, 2005, that brought a great turnout of about 75 attendees. Captain Dominic presented "Where's the rest of the Ship", a multi-media presentation in which he discussed his exploration and recovery of artifacts from the San Miguel Archangel, Spanish ship that sank in the Jupiter Inlet in the 1600's.
Captain Dominic was very personable and entertaining. He showed a passion for the work he does and demonstrated extensive knowledge of his subject. He welcomed questions from the audience, answering them completely…and then inviting more!
I would highly recommend Captain Dominic as a presenter to any organization who would like to hear about the history of the ship and how it came to rest in the Jupiter Inlet, and about how he plans to continue his excavation, with the benefit of the environment and sea life in mind.
Sincerely,


Kathie Olds
Reference Librarian
North Palm Beach Public Library