about us
Jupiter Coins is a subcontractor of Jupiter Wreck Inc. Captain Dominic Addario heads the expedition. Its purpose is to raise funds for continue operations for the expedition, and to market intellectual properties and it's share of artifacts.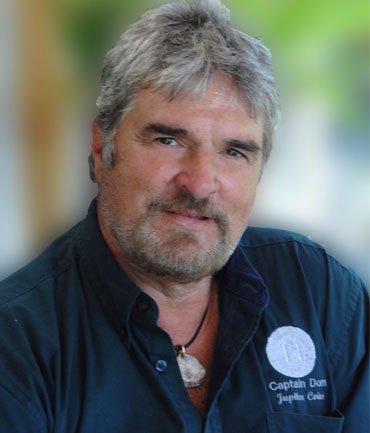 Principle Investigator of the Jupiter Shipwreck Project.
A United States Coast Guard licensed master mariner of inspected vessels.
Dominic holds a Master of Inspected Vessels rating from the U.S. Coast Guard and is a licensed Merchant Marine officer. In 1990 the Rolex Corporation in Geneva, Switzerland selected his project, The Jupiter Historic Shipwreck Expedition ™ for inclusion in its publication, "The Spirit of Enterprise". In 1991 Dominic was inducted into, The Explorer's Club of New York and organization founded in 1905 to promote exploration and "to break down the barriers of the unknown". To date, Dominic is a guest speaker at community events, corporate functions and cruise ship special events.
Captain Dominic Addario
In July of 1987 the Federal Government of the United States awarded him, "Letters of Mark", in the form of an "Admiralty Claim" on a hither to unknown 17th Century Historic Shipwreck site. He formed a company, now known as JWI, and was eventually awarded 100% ownership to the shipwreck site, "against any and all parties in the world", by the Federal Courts of the United States. This award is based upon the, "Merits of our Efforts" and the "Risks" we as private citizens were willing to take to bring this, yet untold story to you.
boats:
The R.V. New World Explorer
Built in 1998-99 at a cost of 2.8 million. This 113' state-of-the-art ship specifically designed for underwater salvage has been assembled with the finest technology available. January – April of 2012 it has been rebuilt, painted and updated to produce another round of spectacular results. Read more. . .

The M.R.V. Enterprise
Our "MRV Enterprise," is a self-sustaining, state-of-the-art, aluminum ocean-going, green-living, habitat & working-marine environment vessel. She has a full-scale solar energy production & multiple electrical power storage and conversion capability, even her 3 ton split air conditioning systems are powered by the sun. Read more. . .
The R.V. Tank
This boat was specially built in 1984 for salvage operations, long range, four person crew for extended time. It has a produced millions with minimal cost. This boat has been used to salvage a historic shipwreck in Jupiter, Florida for four years. It is a dependable, well-equipted, salvage vessel. Also available: 34' Chris Craft, 22' Pontoon 12' Star-Craft. Read more. . .
diving equipment:
Field Equiptment, Electronic, and Removable Equiptment. Read more. . .
Crew members
Dedicated Divers